iSquaresys is a Systems Integrator and IT Service Provider for the end to end Managed IT Services, Consultancy, Solutions and Services.
We are information systems, and managed services provider that specializes in helping businesses deploy, improve and maintain stable and secure outsource technology solutions. Our focus based on providing the latest in Information Technology at a competitive price and provide solutions to different market segments with highest level of customer service. With our experienced functional and technical consultants we are providing cost effective software solutions for Small, Medium and Large Enterprises. Our team of cross functional experts have in depth knowledge and experience in implementing software solutions to Trading, Manufacturing, Insurance, Construction, Transportation, Communication and Education service industries.
GOAL
:
To facilitate our customers manage their business processes more effectively through software applications and support services.

To increase the productivity through   improved strategy, quality, efficiency and cost reduction
MISSION
Create IT part of Business Process
Developing transferable IT knowledge & expertise
Building trust & respect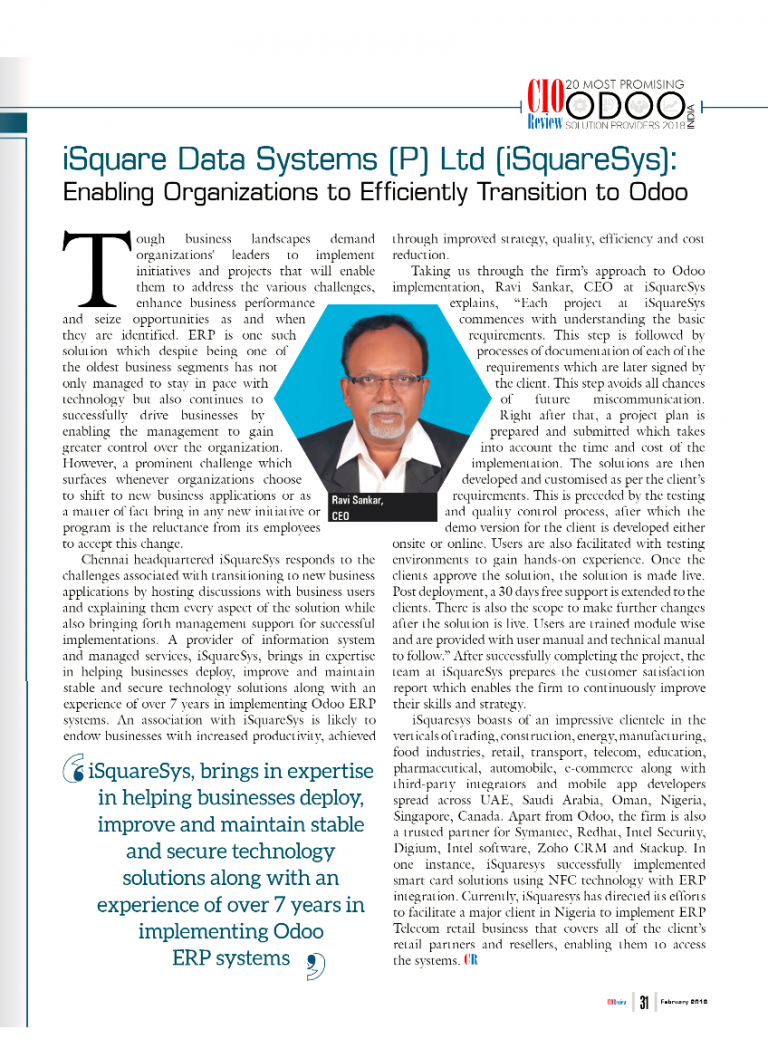 ---
CSR – Corporate Social Responsibility
The goal of CSR is to embrace responsibility for the company's actions and encourage a positive impact through its activities on the environment, consumers, employees, communities, stakeholders and all other members of the public sphere
iSquaresys  CSR Strategy:

  Our CSR programs and the initiatives are contributed & supported by iSquaresys Management and the staffs.
VISION:
To value and be valued by our Customers
Our Values:
We are Innovative
We are Diligent
We are Transparent
We value People
We are S.M.A.R.T
Why iSquaresys?
Domain Knowledge with right expertise
Good Customer Services
Maintaining Quality standards
Customized Working Hours for Development & Support
Focus on outcomes